We have a specific team dedicated to praying for our church and community. Our Prayer Leadership Team is an important ministry at First United Methodist.  If you are interested in joining this vital ministry please contact Pastor Michelle.
REHAB: 40 Days of Meditation
As part of our Lenten Worship Series, Rehab, we are remembering Jesus' time in the wilderness by spending 40 days meditating on what God wants to work in our lives, our congregation, our city, our nation, and our world.  Below are the prayer guides that you may use to aid you on this journey.
Welcome to the Wilderness
A voice from heaven said, "This is my dearly loved Son, who brings me great joy."  Then Jesus was led by the Spirit into the wilderness to be tempted there by the devil. For forty days and forty nights he fasted and became very hungry.                                         (Matthew 3:17-4:1 NLT) 
While traveling in Israel, we went to Jericho and saw the Mount of Temptation.  Jericho is literally an oasis in the middle of the desert.  There are miles and miles and miles of sand and then you come to Jericho, the oldest city in the world.  It is green because it has a spring.  At one point in the Old Testament the water in the spring goes bad, it isn't drinkable.  This city will turn into desert like everything around it. Elisha fixed it.
Jesus had just come the Jordan River, the water supply for Israel.  He is driven into the barren desert that overlooks this lush oasis—where people have food, drink, and are living their lives.  They have no idea that he up there.
These next 40 days, we're letting God take us into the wilderness.  We live in an oasis.  We have food and drink aplenty. The people around us may not have any idea that we are choosing to spend the next forty days being changed for God.
Out in the wilderness we will face many things—fear, hunger, thirst, wild beasts (our own personal demons). It takes fortitude to take this journey with Jesus.  You may shed a few tears, I imagine Jesus may have as well during his 40 days, but we will come out on the other side of this journey renewed with God's purpose.
Expect to be tempted.  Jesus was.  Your temptations may look similar and they may also be different.  The important thing is to keep your eyes on God these next 40 days. Be open to the change God wants in your life and the life of our church.  Trust that God will see you through this.
Day 1:
Reflect on the difference between the wilderness and the oasis.
(personally and then for the church)
Day 2—Prepare to meet your demons
While in the wilderness you always have extra time to think.  You also have plenty of time to worry—will I get through the next hour? Will something devour me?  Will I starve? What is the point of my life?  What brings me joy?  How I can contribute to the world?  In the wilderness we have plenty of time to ponder and pray.
While in the wilderness, we also have to face strange sounds the first night, and how we will handle the day.  What will we do with ourselves?  Usually we go toward negative thinking.  Our demons start chewing on us.
One the most important demons we can face is fear.  It drives many of our emotions; even anger is rooted in fear.  For many, their greatest fear is death.
Consider what you feel are your greatest fears.
What makes you angry?
How is that anger rooted in fear?
One of the greatest fears of humanity is death.  Out in the wilderness, sometimes we may wonder if we are going to survive. Some parts of us may die in the wilderness, and that can be a good thing.  It can bring healthy change into our lives.
Our lives are a sermon, the good parts and the not so good parts.  Someday, someone will have to say your Eulogy. We always hope they will say nice things, but what do you fear that they will say?
She/He could've ________________ if they had __________________
What would be in those blanks?
End your day in prayer
Lord, thank you for beginning to help me face my demons.  Knowing their name is the first step to releasing them.  Lord I ask that you stay close with me over these next 40 days as I continue to listen for your voice and begin the process of growing to be more like Christ.  Continue to shape and mold me.  Open my eyes, Open my heart, Open my ears, to your leading.  Amen.
Day 3:
Now that we got some of the negative thinking out of the way, let's look at some positives.  One is that we survived the wilderness for 2 full days.  Maybe this journey is really doable.  Maybe you are stronger than you thought.  Maybe you are already surprising yourself.
Take a moment and consider what has been really great about your life?
1
2
3
4
5
What was really great about 2017?
1
2
3
4
5
What are you looking forward to in 2018?
1
2
3
4
5
Day 4:
God created us as whole people.  Jesus healed people—body, mind, and soul.  He restored people to community.  Today we want to look at ourselves, our whole selves, and consider where we are.
Provided for you are 8 categories to consider.
1) Satisfying spirituality
2) Vibrant Wellness
3) Mental/Intellectual Growth/Wellness
4) Loving Family
5) Friends for Life
6) Fantastic Fun
7) Abundant Giving
8) Community/Global Empowerment
Write the categories around the outside of the reflective diagram, giving each pie piece one category.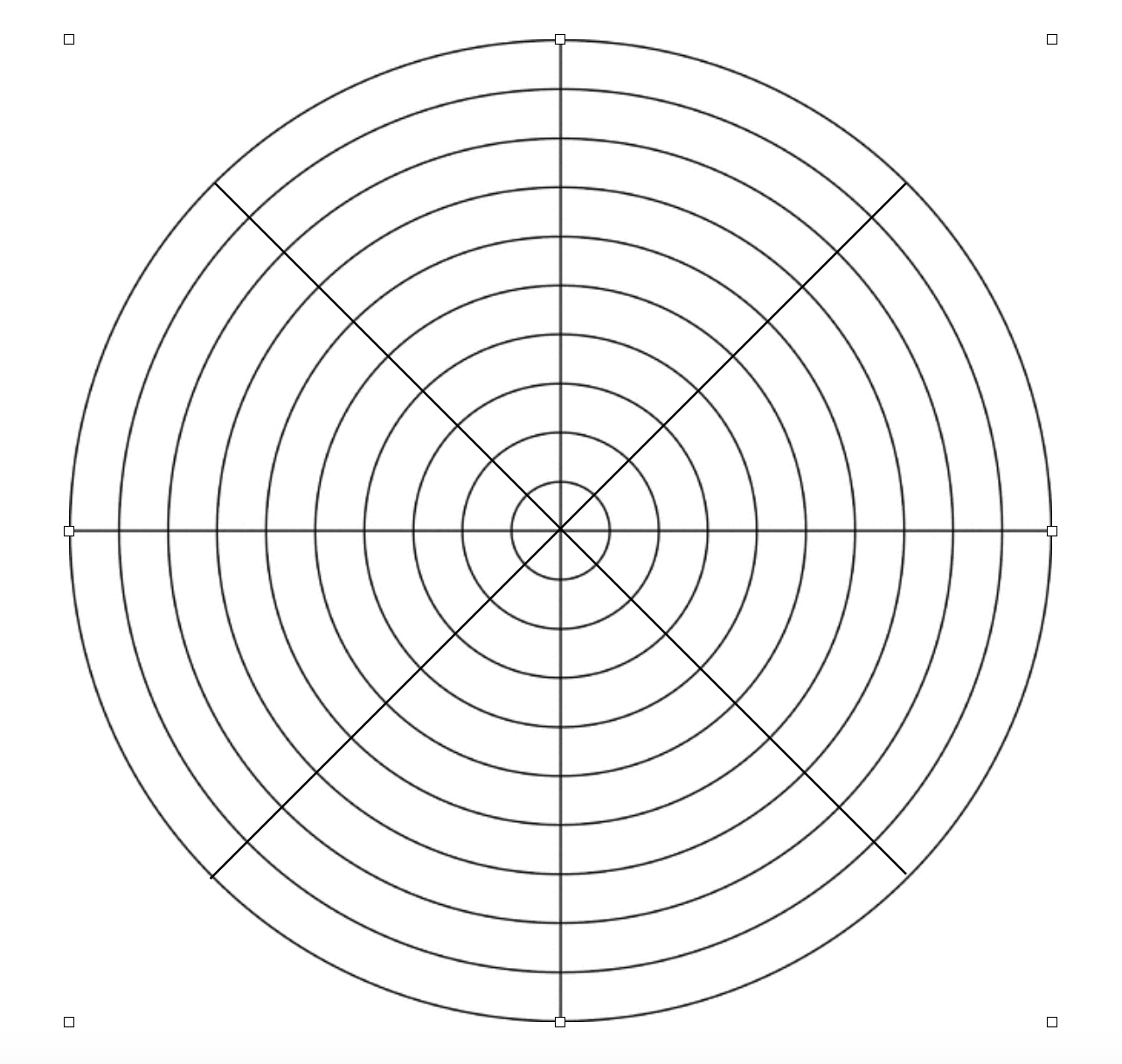 Prayerfully consider 2017 for these areas
There are 10 concentric circles, from the inside of the circle to the outside.
Decide for each category how you would rate it from 1-10—10 being absolutely perfect, 0 being absolutely nothing. Then color in your diagram for each area up the that particular number line.
(SEE EXAMPLE) If you feel that your family life was great last year, but not quite where you want it, maybe it's a 6 or a 7.  If you did not have as much fun as you would've liked, maybe it's a 2 or a 3.
When you are done, take a look at your reflective diagram.  Where is life off kilter?  Where have you put your focus over the last year?  Where would you like to see improvement?
Pray over this diagram with God.  Don't forget to listen.
NOTE:  If you would like to break your categories down further, you may do so on another diagram or if you'd like to look at different categories in your life, you can do so on a different diagram.  These are the 8 we will be focusing on for church.  How far you stretch yourself and reflect is your choice.
Day 5:
The church is made up of people.  It is a living, breathing organism that is constantly changing.  If is isn't changing and growing then it is dying.  Either way, change is inevitable. We want to do the same exercise as yesterday, but for the church.
Again, there are many categories we can consider, and you may choose to do that on an extra diagram.  For our purposes we are looking at the same 8.
1) Satisfying spirituality (Core Value: Spiritual Growth)
2) Vibrant Wellness
3) Mental/Intellectual Growth/Wellness
4) Loving Family
5) Friends for Life
6) Fantastic Fun
7) Abundant Giving
8) Community/Global Empowerment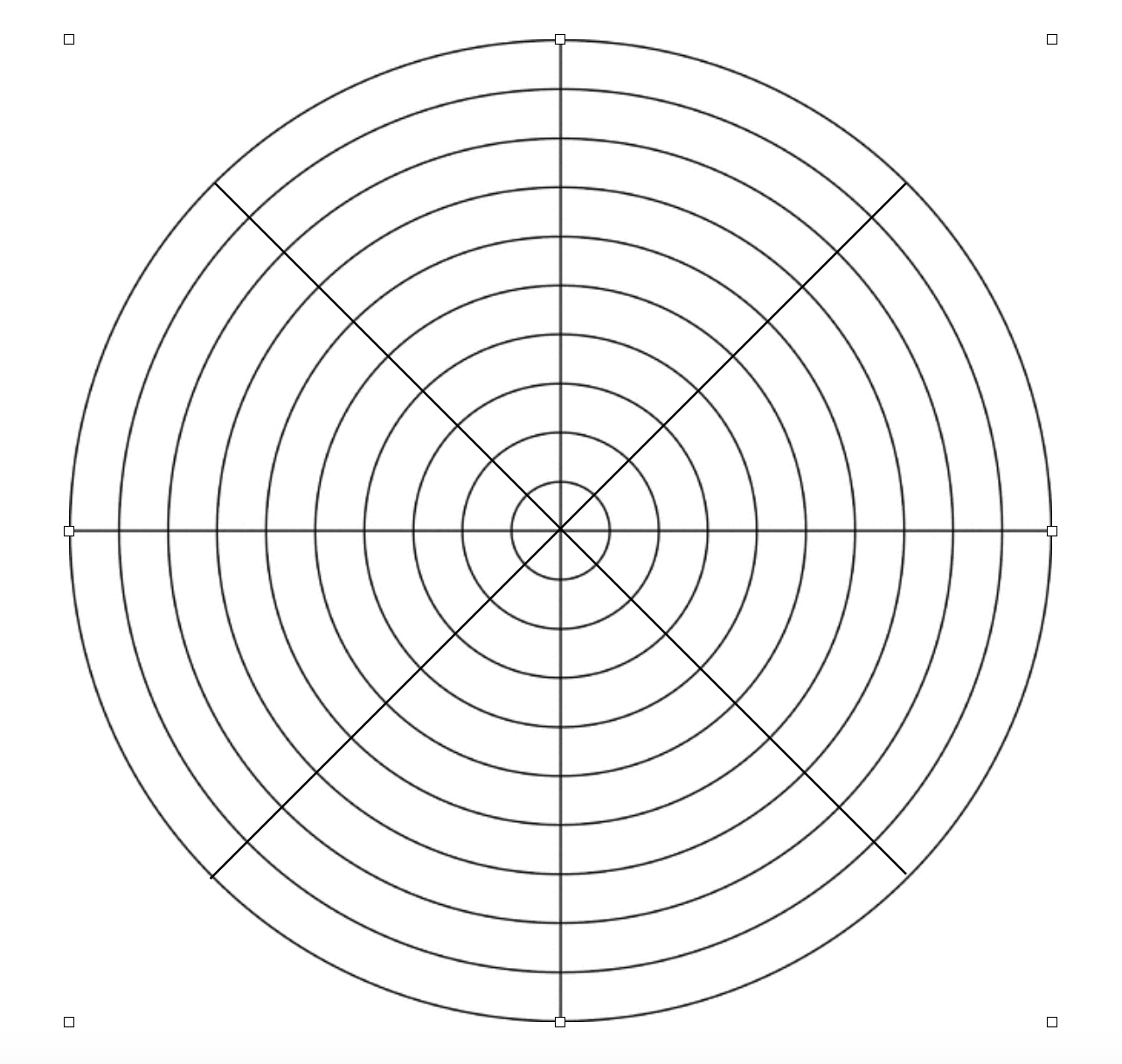 Day 6: Beginning tomorrow in worship, we will be taking the next step of our 40 day journey in the wilderness.  Today, rest from your worries and your demons and just be fully present. Enjoy the little things today, the smell of your coffee or the sound of a crackling fire.  Maybe listen to some great music and let God lift your spirit. Take time to thank God for the beauties of life and all the lessons learned this week.  Thank God for the strength and for opening your eyes, ears, and heart.  Just enjoy your day knowing that God is beside you, whispering in your ear, and loving you. As you meditate today, focus on just being—on clearing your mind, quieting the demons that want to speak, and just being in God's love.
WEEK 2: INTERVENTION
Congrats on making it through week 1!  Many of you have let me know that you enjoyed the materials provided for the first week so I am providing some more material for week 2.  Again, it's up to you if you use it.
IF, you used the materials for week 1, there were questions pertaining to the church/congregation as a whole.  I would love if you would share your insights with me.  You can do it anonymously or attach your name to it.  You can put it in my mailbox in the office of email me.  Whatever you prefer is fine.
Day 1:
This week we talked about "Intervention" and that intervention requires change.
3-5% of people will actually choose to make change.
90-95% of people are so afraid to lose what they have in their life that they won't make any attempt to make things better.  They don't trust that they can survive if things are different.
What does that say about our trust in God?
What does that say about our need for control?
Spend some time with God reflecting on where you need to learn to trust more and where you are still trying to hold onto control.
Day 2:
Intervention is saying their needs to be a change and we can clearly see that playing out in our world.  We are called to love God and neighbor.  As I mentioned in the sermon, maybe am I blind to my own lack of love for my neighbor.
What is possible if you get out of your own way and address the issues that our neighbors care about?
What do we need to change, as a congregation, in order to love our neighbors better?
What changes can we make, in order to help those in our community?
What changes can we make, in order to help those in our state?
What changes can we make, in order to help those in our our country?
What changes can we make, in order to help those in our world?
Are these answers what God is saying? Or are they what WE think is possible?  Are they God sized dreams or human sized?
Day 3:
I supplied you with 4 new archetypes and mentioned two from last week in the sermon—Destroyer (last week), Saboteur (from last week), Bully, Seeker, Healer and Liberator.  Take a moment to look over that sheet.  I have supplied a basic note about each one here, but they are just my basic notes.
Spend some time with God asking How you show the positive or negative characteristics of these archetypes?
Destroyer—NEGATIVE—Destroying others dreams or potential. Jesus turns around and shows him the light.  (POSITIVE—He releases what is potentially destructive.)  Prepares Peter for a new life. One focused on Godly things, not human.  (Basically pushed Peter into the wilderness).
Sabateur—NEGATIVE—Induces self-destructive behavior or the desire to undermine others.   (POSITIVE—Highlights your fear of self-empowerment and the changed it would bring to your life).
Bully—Conceals deep fears behind verbal or physical abuse.
(NEGATIVE) Our tendency to intimidate others…but helps you confront your inner fears that bully you)
Healer—Passion to serve others by repairing the body, mind and spirit.  Ability to transform pain into healing.
Liberator—Freeing yourself and others from outmoded beliefs.  Releasing negative thought patterns.
Seeker—Seeks to gain wisdom (NEGATIVE) may not settle down and apply it.
Day 4:
Look at some of the suggestions from day 2.  What potentials and problems do you see?  How can we join with God to address them?  Can you let God silence the demons?  or will the bully, the destroyer, the saboteur win?
Congregation:
Potentials
Problems
Community:
Potentials
Problems
State:
Potentials
Problems
Country:
Potentials
Problems
World:
Potentials
Problems
Day 5:
Last week, you had a chance to take a look at some areas that you may want to consider making a change in, for both yourself, and as a congregation, to have a more balanced life.
How do these areas line up with what what needs to be addressed as a congregation, community, state, country, and world?  (IF they don't, spend some time in conversation with God about that)
Spend some time today talking with God about how to best address those areas that need fine-tuned.
Talk with God about your willingness/ or lack of willingness to make changes in order to live a life focused on God's intentions, not what the world wants and thinks.
Day 6:
A study was done interviewing people on their data bed about their regrets.
Wish they had stopped to smell the roses along the way—appreciate the simple joys in life.
Wished they had done the things they didn't do—when they could have
What they had taken more risks along the way—more out of the box thinking.
Where do you need to address these things?
Spend some time today at least enjoying some of the simple things.
PROGRAM
Congrats!  You are almost half way through your 40 days!  We have looked at where we are and started facing our demons.  We have looked at our strengths and weaknesses, both individually and as a congregation.  Thank you to those who turned in their circles for the congregation.
In looking at our circles, we see that we aren't as balanced as we would like to be.  We recognize that we are whole people, but aren't necessarily attending to our wholeness.  We need an "intervention" of sorts to move forward in the ways we are called.
This week we look at the program.  Our theology is shaped, we heal, we go out and share that healing with others.  We learn and apply.  Then we repeat the cycle because we always have things that need healed.  We can always learn more and Jesus says to follow, to go apply.
This week we will look over some archetypes around this message, where we are in the program, and listen for how God wants us to move forward in application.
DAY 1:
NEW Archetypes
Student— Light Attributes: Humility and devotion to knowledge. Openness to lifelong learning.
Shadow Attributes: Arrogance in the pursuit of destructive knowledge.  Unwillingness to translate knowledge into action.
Judge—Light Attributes: Balancing justice and compassion.  Managing the fair distribution of power.  Shadow Attributes: Offering only destructive criticism.  Misusing business, legal, or criminal authority.
Read each archetype.
How do you relate to the light attributes?
How do you relate to the shadow attributes?
What do you need to do in order to stop exhibiting the shadow side?
Spend time with God asking God to continue to open your eyes to things you need to leave behind and to give you courage to step into the things that God desires for you.
DAY 2:
As part of the FCJ program, we have noted that the discipleship path tends to take the following shape:
Loving God (Theology and Answering the Call)
Loving Ourselves (Letting God work healing in us)
Loving Others (Healing relationships and introducing others to the healing power of Christ)
Prayerfully read through the following steps.
Program—
Steps 1-3 Loving God—Theology and Answering the Call
1. We admit we were powerless to change ourselves. We admit that we are imperfect and not as loving as God.
For I have the desire to do what is good, but I cannot carry it out. Romans 7:18 NIV
2. We believe that a power greater than ourselves could restore us to wholeness.For it is God who works in you to will and to act according to his good purpose. Philippians 2:13 NIV
3. We made a decision to turn our lives and our wills over to the care of God. In view of God's mercy, we offer ourselves as living sacrifices, holy and pleasing to God – this is your  spiritual act of worship. Romans 12:1 NIV
Steps 4-7 Loving Ourselves—Self reflection and letting God work in us for our healing.
4. We made a searching and fearless moral inventory of ourselves. Let us examine our ways and test them, and let us return to the Lord. Lamentations 3:40 NIV

5. We admitted to God, to ourselves, and to another human being the exact nature of our wrongs. The Bible tells us to confess our sins to each other and pray for each other so that you may be healed. James 5:16a NIV
6 We were entirely ready to have God remove all these defects of character. Humble yourselves before the Lord, and he will lift you up. James 4:10 NIV
7 We humbly ask God to remove all our shortcomings. If we confess our sins, God is faithful and will forgive us our sins and purify us from all unrighteousness. 1 John 1:9 NIV
Steps 8-10 Loving Others — Doing all the good you can. Do no harm.
8 Healing broken relationships—We made a list of all persons we had harmed and became willing to make amends to them all. Do to others as you would have them do to you. Luke 6:31 NIV
9 We made direct amends to such people whenever possible, except when to do so would injure them or others. Therefore, if you are offering your gift at the altar and there remember that your brother has something against you, leave your gift there in front of the altar. First go and be reconciled to your brother; then come and offer your gift. Matthew 5:23-24 NIV
10 We continue to take personal inventory and when we were wrong, promptly admitted it. So, if you think you are standing firm, be careful that you don't fall! 1 Corinthians 10:12
Steps 11-12 Doing God's will & Sharing the good news.
11 We sought through prayer and meditation to improve our conscious contact with God, praying only for knowledge of His will for us, and power to carry that out. Let the word of Christ dwell in you richly. Colossians 3:16a NIV
12 We carry this message to others and practice these principles in all our affairs. Watch yourself, or you may be tempted. Galatians 6:1 NIV
Questions to Consider Prayerfully with God
Where do you see yourself in this process?
Are you willing to take the next step?
Where are you still letting God heal you?
Where are you in the maintenance phase of these steps?
Are you bringing healing to others and restoring relationships?
DAY 3:
We have spend many days reflecting on ourselves and God's purposes for us.  We've looked at things that need adjusted.  We've contemplated on our light and our shadow sides.  Today, spend some time with God to bring all of this together.
What is the common thread running through these lessons?
What is God trying to show you?
And why is God pointing this out to you now?
Don't forget to thank God for these insights.
DAY 4: Spiritual disciplines support us on our journey with God.  Reading scripture and meditating on it, daily reviewing God's call on our lives and stepping into that, and gratitude, are important for spiritual growth.  Below is John Wesley's Spiritual Disciplines.  Are you attending to these disciplines or do you need to add one in?
Works of Piety
Individual Practices – reading, meditating and studying the scriptures, prayer, fasting, regularly attending worship, healthy living, and sharing our faith with others
Communal Practices – regularly share in the sacraments, Christian conferencing (accountability to one another), and Bible study
Works of Mercy
Individual Practices – doing good works, visiting the sick, visiting those in prison, feeding the hungry, and giving generously to the needs of others
Communal Practices – seeking justice, ending oppression and discrimination (for instance Wesley challenged Methodists to end slavery), and addressing the needs of the poor
DAY 5: Insights are great, but only if we put them into action.  Today in prayer, speak with God about your willingness to (or lack of willingness) to surrender yourself to allow God to work this new change in you?  
If you are willing, what small denials or immediate gratifications will you have to set aside in order to step into this new insight?  What steps will you need to take to move forward into who God is calling you to be and what God is calling you to do?
If you are not willing, ask God what step you are missing, what point of healing still needs to happen in order for you to be willing?
DAY 6: Sabbath—God is still moving, even when we aren't.  Keep your eyes, ears, and heart open throughout your day.  Where did you see God moving today?  How did spending your day with this expectancy, openness, and awareness, change how your day went?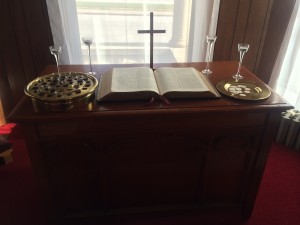 You are always welcome to come and pray in our prayer chapel or the sanctuary.